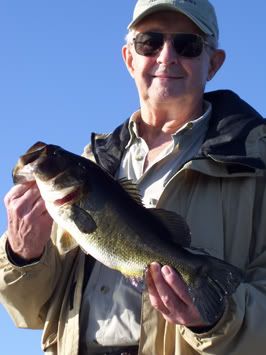 Bill and Harold drove down from Tennessee for three days of Florida Bass Fishing. We fished Lake Jackson, Butler Chain and Johns Lake. The bass fishing before the guys got here had been doing great, but a front had rolled thru here and all but put the clamps on the bass fishing. Lake Jackson was not too bad, we did have to work very hard for the catch we did get, with blue bird skies and high winds, made for a very tough bite for sure.
bass we did manage to catch mostly came on live wild shiners and Harold did manage most of the bass using the shiners, we had several hits but pulled the baits away before they would commit to the bait. The bass we definitely very finicky out here which was very surprising for Lake Jackson.
Butler Chain and Johns' Lake were both very tough bites, Butler Chain bite was a strange one for sure, we saw some action out there but the catch was very limited. Several others out there had also reported a very tough to nonexistent bite. We had worked lakes Butler,Down,Chase and Tibet with very little success to speak of.
Johns Lake we saw some scattered bass schooling, but they were definitely not in the chasing mood, Harold had a nice bass on, but she took his line straight under the boat and broke off on the trolling motor. Winds were definitely blowing pretty good out here which will make the bite out here very tough. Warmer weather on the horizon so we fully expect the bite to pick right back up again.
Capt Tim Fey
http://www.bassfishingfl.com